Published on 31 January 2023
Posted in Blog
There's no denying that caring for a baby or toddler is a messy job, especially at mealtimes. This experience is shared by restaurants and hotels who have to clean and maintain highchairs regularly. Crumbs, liquids and sauces can go everywhere, and cleaning it up at the end of the day can feel like an overwhelming task. Understanding how to clean a highchair properly will ensure that your business maintains a high level of hygiene – something that is absolutely essential for the hospitality industry
This guide will teach you how to clean a high chair and take you through the steps to make clean-up time feel that little bit easier.
Dispose of Crumbs
The first task is to dispose of any crumbs from the tray and seat. Take the tray over the bin and use something (most would opt for a used utensil, something that was already going to be washed) to scrape off the crumbs.
Make sure to wipe or sweep up any crumbs from the floor as well, we wouldn't want to forget about them and find them kicked under furniture or gathering mould later on.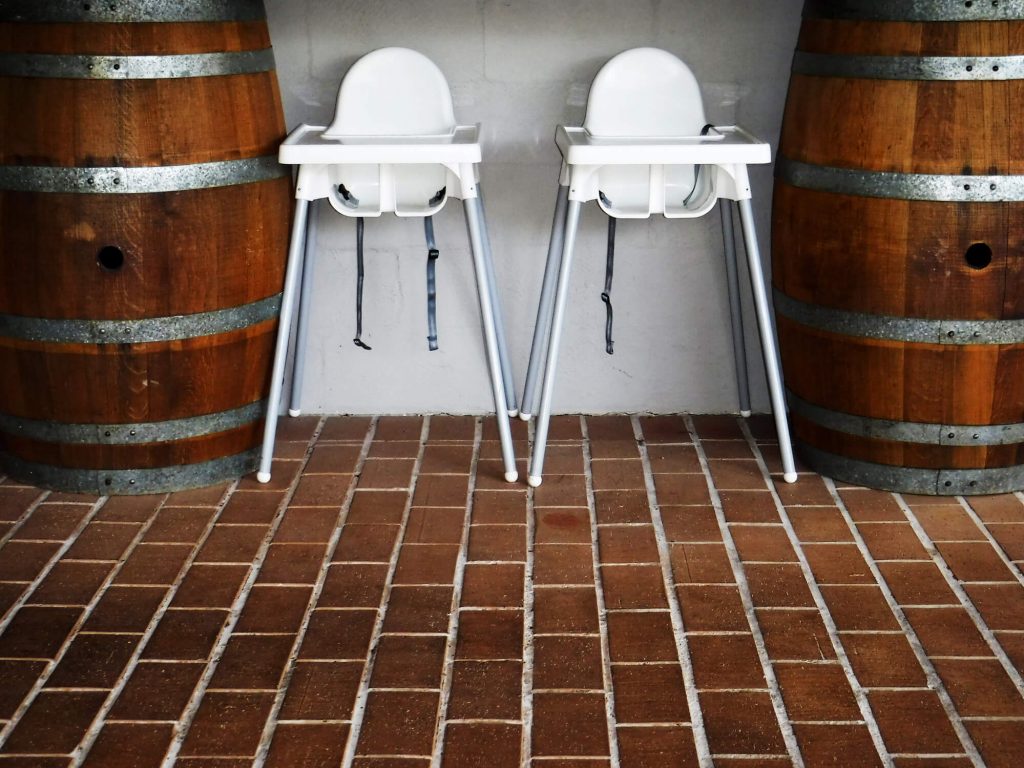 Wipe the Highchair Down
Next, wipe the chair down. You can use a wet cloth to do so, followed with an antibacterial wipe to kill any bacteria that might be building up.
Don't use anything too strong though. You wouldn't want to use anything that could be irritating for your child's skin. Make sure to get into all the little corners that are hard to see. Just because they are out of sight, doesn't mean that crumbs won't find their way into any small space and develop harmful bacteria.
Remove the Tray and Disinfect
For this step, use a stronger disinfectant. It is recommended to use a diluted bleach solution.
Thoroughly wash the tray with the solution until you are 100% positive there are no stains or food remains left on the tray.
For any tougher stains that won't come out, you can make a 1:1 ratio solution from water and vinegar and let this sit for 5-10 minutes. Then rinse it off and it should remove any stubborn stains.
Wash Fabric if Necessary
If your highchair has any fabric parts, such as a fabric covering, cushions or a headrest, remove these and put them into the washing machine to get them nice and clean.
You should make sure to check what the fabric washing instructions are first and follow them. You wouldn't want to risk damaging them or have them not be cleaned correctly.If you are a business looking at high chair hire then look no further than BedHire.co.uk. We are a service where you can hire high chairs, cots and other baby furniture for a fraction of the cost of purchasing new. To hire clean, quality baby furniture at a reasonable price, Contact Bedhire.co.uk today.